LEARN MORE ABOUT
Yen Hall Farm Racing Club
We have designed our racing club, Yen Hall Farm Racing, so as to be able to give members all the fun and excitement of racehorse ownership but at a modest fixed fee.
We are keen that members have a lot of enjoyment and exceptional value for money. Although this has attracted experienced racehorse owners, it is also ideal for those who are thinking of becoming involved for the first time.
Membership of Yen Hall Farm Racing Club is limited to 20 shares as opposed to some other well-known clubs that have a hundred or more. We want you to feel like an owner, not a number.
In order to give members as much racing as possible, we put three horses into the club and select ones that offer variety between hurdling and chasing and we mix experienced handicappers with relatively untried horses that we believe could prove to be very exciting.
Members pay a fixed fee of £210 a month. That covers all costs, including training fees, race entries, transport and jockey fees and there are no hidden extras.
All owner's prize money (adjusted for VAT) is divided between the 20 membership shares and is distributed to fully paid-up members at the end of the Yen Hall Farm Racing season (which runs from 1 September to 31 May).
Members are kept fully informed and are encouraged to visit the yard at any time by arrangement and to watch the horses school and work on the gallops.
The horses will run in the exclusive and specially designed YHF Racing colours – except in point to point races
Owners' badges are available for all members to come and watch the horses run at race meetings subject to availability.
The horses selected to run for YHFR in the 2022-2023 are: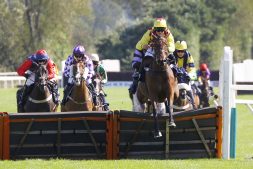 Glimpse of Gold
Glimpse of Gold is a legend and has been amazingly successful for the Club. He is now 11 years old but loves his life and loves racing. Since joining us as a 9 year old, rated 95, two years ago, he has gone from strength to strength as is now rated over 120. From his 7 runs in 2022 alone, he has won three and been placed in two more, winning a staggering total of over £27,900 this year – to add to his tally of 2 wins for the Club in 2020 and 2 further wins for the Club in 2021.  He clearly loves the game and remains very competitive, despite the attentions of the handicapper! He is sure to win again despite being at a career high handicap mark.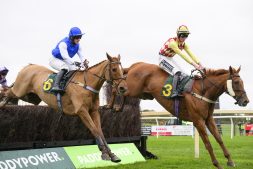 Le Tueur
Le Tueur (aka "Terry") is a recent acquisition by the yard and has not yet raced for us. He is a very good looking 7 year old gelding by Flemensfirth.  He stands a magnificent 17h 1″ and yet is remarkably balanced and light on his feet. He has plenty of winners in his family, including his two half-siblings, and his dam was a multiple-winning hurdler and was half-sister to a number of very successful National Hunt winners including Bobowen, Shantou Tiger and Sun King. Terry has won a point to point and a hurdle race but is still a maiden over fences, despite having had many placed finishes. He is working very well at home and we are confident that he will provide Yen Hall Farm Racing with a lot of fun and success.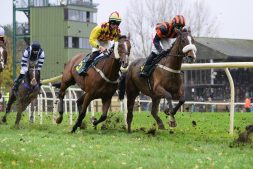 Le Templier
Templier (aka "Tom") is a lovely, big old-fashioned stamp of a National Hunt horse. He is by Master Craftsman and has a number of winning half-siblings who have won on the flat in France and Tom has shown himself to be versatile, having won on the flat, over hurdles and over fences, most recently at Warwick at the end of December 2021. He has a great presence and clearly relishes winter ground. He is another recent purchase for the yard. He is impressing us with his work and we are sure that he will do well for Yen Hall Farm Racing.
In addition to the horses named above, I am keen that members enjoy plenty of racing and so, from time to time, I may decide to arrange for another horse to run as a "bonus run" for the Yen Hall Farm Racing Club. Although any horse doing so will not run in the Yen Hall Farm Racing Club colours, we treat it as a Yen Hall Farm Racing Club race and any owners' prize money won will go into the member's prize fund.
For those that like small print clauses, you will be glad to know that, even though I can't guarantee that the Yen Hall Farm Racing Club horses will remain sound, it would be my intention to replace any horse that is unable to run for an extended period or, one that is sold at auction or claimed under the terms of any selling or claiming race. If I "buy in" one of the horses at auction (ie if it wins a selling race and I purchase it back to stay in the club), the prize money won in that race may be used to cover the purchase price so that only any net profit is available to be distributed to the members of the Yen Hall Farm Racing Club.
Again, for the benefit of lawyers and others who like to focus on the details, the horses involved in the Racing Club are technically leased to Yen Hall Farm Racing Club for the club's season and, at the end of the season, will continue to be owned by me. The good news is that none of the members of YHF Racing have any liability to me or to anyone else in respect of the horses (other than payment of the agreed fee of £210 a month) which means no vets fees among other things. The membership fee must be paid up in full at the outset or may be paid by direct debit in monthly instalments. Anyone who doesn't pay up in full will not be entitled to share in any benefits – and more notably unable to receive their share of owner's prize money when it is distributed at the end of the Yen Hall Farm Racing Club season.
As you will appreciate, this is a private arrangement and membership of YHF Racing is not transferable and members must agree that it is clearly for entertainment and is not an investment or an arrangment with a view to profit.
As you would expect, the horses will be trained by me and I shall be responsible for all decisions relating to the horses.