LEARN MORE ABOUT
Yen Hall Farm Racing Club
We have designed our racing club, Yen Hall Farm Racing, so as to be able to give members all the fun and excitement of racehorse ownership but at a modest fixed fee.
We are keen that members have a lot of enjoyment and exceptional value for money. Although this has attracted experienced racehorse owners, it is also ideal for those who are thinking of becoming involved for the first time.
Membership of Yen Hall Farm Racing Club is limited to 25 shares as opposed to some other well-known clubs that have a hundred or more. We want you to feel like an owner, not a number.
In order to give members as much racing as possible, we put three horses into the club and select ones that offer variety between hurdling and chasing and we mix experienced handicappers with relatively untried horses that we believe could prove to be very exciting.
Members pay a fixed fee of £175 a month. That covers all costs, including training fees, race entries, transport and jockey fees and there are no hidden extras.
All owner's prize money (adjusted for VAT) is divided between the 25 membership shares and is distributed to fully paid-up members at the end of the Yen Hall Farm Racing season (which runs from 1 October to 30 June).
Members are kept fully informed and are encouraged to visit the yard at any time by arrangement and to watch the horses school and work on the gallops.
The horses will run in the exclusive and specially designed YHF Racing colours
Owners' badges are available for all members to come and watch the horses run at race meetings subject to availability.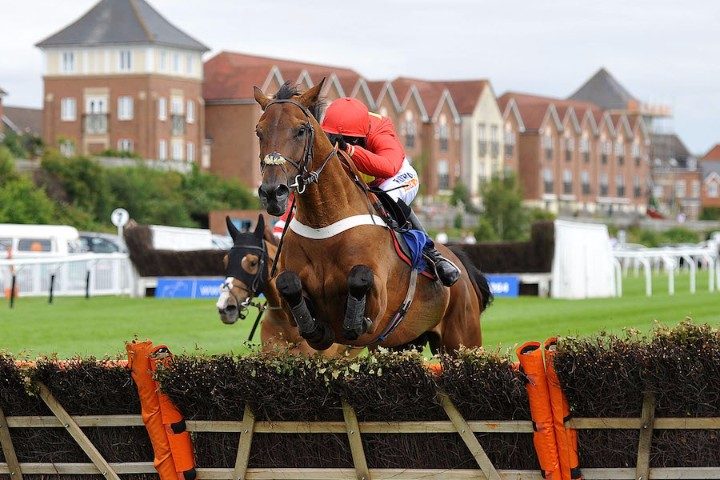 FARE THEE WELL (IRE)
2010 bay gelding by Duke Of Marmalade (Ire)
ex Bowstring (Ire) (Sadler's Wells (USA))
A lovely big 7 year old gelding by Duke of Marmalade out of a winning Sadler's Wells mare, all of whose progeny are proven winners. His granddam has produced a number of excellent jumpers, including Battle Group and Upgrade 1, both of whom were rated over 150 over fences. "Fred" is a stunning looking horse who moves beautifully and looks every part a future chasing champion. He was second in a competitive Irish point to point – the winner was then sold at the Brightwells Cheltenham sale for £300,000 and is now with Henry de Bromhead and is rated 150 over fences. This is a very serious and exciting prospect.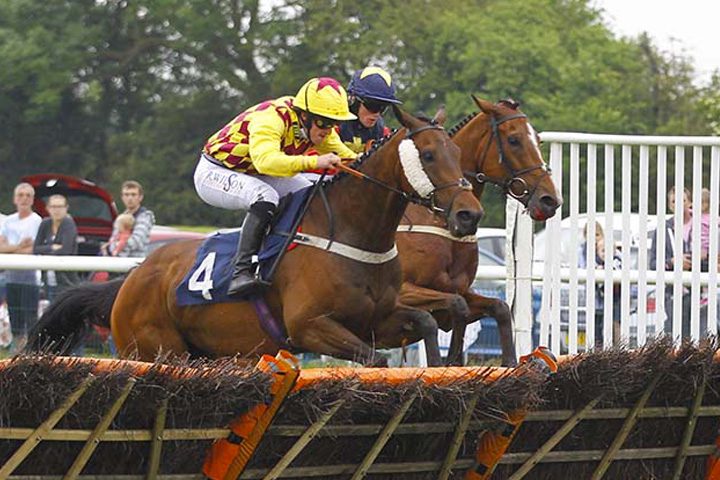 KNIGHT'S PARADE (IRE)
2010 bay gelding by Dark Angel (Ire)
ex Toy Show (Ire) (Danehill (USA))
A seven-year-old, 16.1 hh bay gelding whom we claimed out of a Stratford selling hurdle in October 2015 from Gordon Elliott's yard. He is a very versatile horse who has had six wins on the flat (four on turf and two on the all-weather) as well as three wins over hurdles, including (at very long odds!) the feature race at Chelmsford on the all-weather on his first outing for me. He is a lovely horse with a great attitude and has been placed in 4 of his 5 races for me this year. He has had a break over the summer but is now back in work and raring to go!

POSTBRIDGE (IRE)
2011 brown mare by Robin Des Pres (Fr)
ex Dartmeet (Ire) (Presenting)
A six year old, brown mare by Robin des Pres out of a Presenting mare, "Bridget" has run nine times, winning twice and being placed five times. She is rated 117 over hurdles and, although untried so far over fences, she has the size and conformation to do well chasing. She is well-bred and her full sister is rated 127 over hurdles and her older brother, who is also by Robin des Pres, is a multiple point to point winner and, having made a late switch to running under rules, has won twice and been placed once over regulation fences from his last three starts (being his only runs under rules to date). I am looking forward to running Bridget in novice and mares' chases in due course.
In addition to the three horses above, I am keen that members enjoy plenty of racing and so, from time to time, I may decide to arrange for another horse to run as a "bonus run" for the Yen Hall Farm Racing Club. Although any horse doing so will not run in the Yen Hall Farm Racing Club colours, we treat it as a Yen Hall Farm Racing Club race and any owners' prize money won will go into the member's prize fund.
For those that like small print clauses, you will be glad to know that, even though I can't guarantee that the Yen Hall Farm Racing Club horses will remain sound, it would be my intention to replace any horse that is unable to run for an extended period or, one that is sold at auction or claimed under the terms of any selling or claiming race. If I "buy in" one of the horses at auction (ie if it wins a selling race and I purchase it back to stay in the club), the prize money won in that race may be used to cover the purchase price so that only any net profit is available to be distributed to the members of the Yen Hall Farm Racing Club.
Again, for the benefit of lawyers and others who like to focus on the details, the horses involved in the Racing Club are technically leased to Yen Hall Farm Racing Club for the club's season and, at the end of the season, will continue to be owned by me. The good news is that none of the members of YHF Racing have any liability to me or to anyone else in respect of the horses (other than payment of the agreed fee of £175 a month) which means no vets fees among other things. The membership fee must be paid up in full at the outset or may be paid by direct debit in monthly instalments. Anyone who doesn't pay up in full will not be entitled to share in any benefits – and more notably unable to receive their share of owner's prize money when it is distributed at the end of the Yen Hall Farm Racing Club season.
As you will appreciate, this is a private arrangement and membership of YHF Racing is not transferable and members must agree that it is clearly for entertainment and is not an investment or an arrangment with a view to profit.
As you would expect, the horses will be trained by me and I shall be responsible for all decisions relating to the horses.