Sarah Humphrey Racing Newsletter September 2019
Sarah Humphrey Racing Open Day 
We had a fantastic Open Day on 7th September with 100 guests attending. The team had done a tremendous job and the horses and facilities looked wonderful and were a great credit to them. It was also an opportunity to introduce the new horses in the yard and to thank our owners, suppliers and everyone involved, without whom none of this would happen. The weather was kind and stayed dry, although a touch cold, but the fantastic lunch warmed everyone up. A big thank you to everyone who came along and we're already looking forward to next years event!
New Faces – Staff and Equine!
The Open day gave us an opportunity to show off new faces. Firstly we welcome Emily Norman to the team. Emily has ridden for many years and enjoys competing on her own horses. Having previously worked in several yards in Newmarket she has just returned from working in America. She has settled in very quickly and is already a great addition to the team.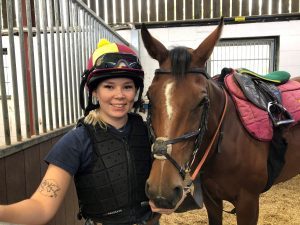 Emily ready to pull out.
On the horse front we have several exciting new additions to the yard.
'Benny Flies High' is a 2016 gelding by Jet Away ex Money Money Money. He is a big, good looking, athletic gelding owned by the Hook Lane Syndicate. He had been backed and turned away before recently joining us.We have not done much with him yet, but are very much looking forward to seeing him on the track next spring.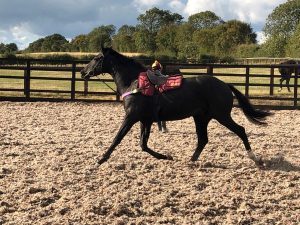 Benny Flies High back in work
Irish Sovereign is a gorgeous, strapping 4 year old gelding by Getaway out of Magdoodle by Blueprint. He was purchased privately from Ireland and is very much the type to win a bumper before progressing as a hurdler and ultimately going chasing. He is precocious and tough and a very exciting top class prospect and is for sale either as a whole or in shares. For more details, videos or to view him please get in touch with Sarah.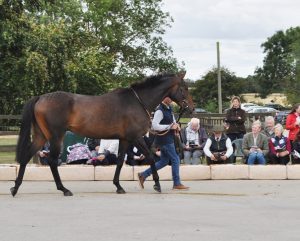 Irish Sovereign
Stowaway Magic was bought from the Grech and Parkin dispersal sale last May. He had had a busy season and needed a break . We believe that he will benefit from individual attention being in a smaller yard and has enjoyed a holiday out in the field with Brecon Hill. He appears to be well handicapped and we are looking forward to him running later this autumn.
Improving the facilities
It was a push, but Tony Hill and his team from Hill Plant & Groundworks did a great job and finished putting our new canter surface down just in time for us to show it off at the Open day. The new surface is CanterCarpet which provides a lovely cushioned ride and most importantly, performs in all weathers. The horses and riders love it and it really makes the horses work hard.
We have laid the old surface on the inside of the canter track and we will put hurdles on it to provide an all weather schooling track which will be a huge benefit all year round. Last autumn we drilled a grass gallop at the top of the farm, but that did not do well due to the extremely dry autumn we had.It was redrilled in the spring and again, due to the lack of rain, has not really taken as it should, so I'm putting the sheep on it now whilst contemplating my next move! Hopefully by this time next year we will have it in use.
Yen Hall Farm Racing Club
We have designed our racing club, Yen Hall Farm Racing, so as to be able to give members all the fun and excitement of racehorse ownership, but at a modest fixed fee. As well as going racing there are schooling and work mornings, stable visits and lots of delicious cakes and coffee!
The horses selected to run for YHFR in the 2019-2020 season are Arcadian Sea, a 5 year old dual purpose horse, Misshirocco, a 4 year old filly who shows great potential and will start off in bumpers, Stonebrigg Legend who is a regular winner at Fakenham, and Local Show who will point to point and won 4 races last season. These horses will provide a great mix of racing from now until May, and a lot of fun!
There are 20 shares in the club with only a few spaces left for this season. Members pay a fixed fee of £180 per month that covers all costs, including training fees, race entries, transport, jockey fees, vet fees, and there are no hidden extras. Race day badges are also included.
We want you to feel like an owner, be involved and have fun! It is a great way to dip your toe into racehorse ownership for a fraction of the cost. Contact Sarah for more details.
Below is a picture of the silver ware won by YHFR last season.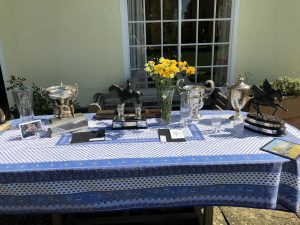 Fantastic autumn riding!
We have had some fantastic weather and proper autumn mornings recently. Harvest is well and truly over everyone, horses and riders, have enjoyed hacking around the farm and the horses love cantering on the stubble. There have been some empty saddles! There are several autumn rides locally involving great canters and plenty of jumping which provide a lovely change from the general day to day work. They help to keep horses and riders fresh and teach the youngsters a lot. We'll make the most of it before the days get too short.
And finally…
A huge thank you to the team behind the scenes who make this all work. I am lucky enough to have a young, enthusiastic and talented team of staff at the stables who are a pleasure to work with. They are backed up by great vets, farrier and physios, and Spillers provide the feed. A huge thank you to everyone involved!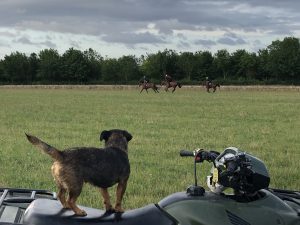 Assistant trainer keeping an eye on things!